SIX times more income!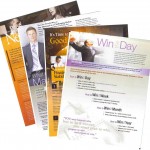 Want to earn more money doing what you are already doing with a simple tweak here and there?  More business is referred to the average agent than found through advertising.  No matter how much technology evolves the way we do our real estate, it all boils down to relationships.  Buffini & Company coaches more productive agents than any other coaching/education company.  In fact, Buffini & Company boasts their coached agents earn more than 6 times that of the average real estate agent.  How do they do it?  Do they have secrets to this business not shared with anyone else? Is it just plain luck?
Find Out! Register to receive free coaching from Buffini & Company right into your email inbox each month.  It's Free with no obligation.  Each month you'll receive a 2-page coaching piece designed to be read within minutes.  The steps to complete business and financial health are easy when it is done in small changes to our personal behavior.